The Navy's first Super Hornet squadron - The Flying Eagles of VFA-122

I recently had the privilege of visiting NAS Lemoore, California and flying with "The Flying Eagles" of VFA-122 and their new F/A-18E/F Super Hornets. The squadron official mission as stated is "To train replacement aircrew to conduct prompt and sustained combat operations from the sea, putting fuzed ordnance on target, on time, first pass…anytime, anywhere."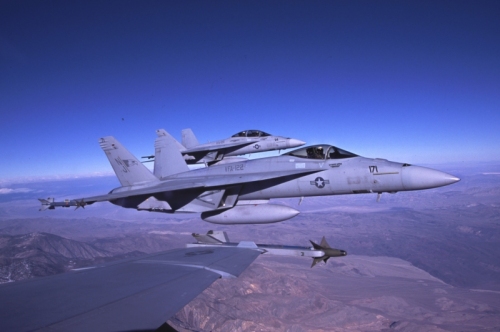 Strike Fighter Squadron 122 was formally reestablished on 15 January 1999 to function as the Navy's FA-18E/F Super Hornet Fleet Readiness Squadron (FRS). The squadron grew out of the FA-18E/F Fleet Introduction Team, a small cadre of handpicked officers and enlisted formed in 1996 to ensure a smooth introduction of the new aircraft to the Fleet.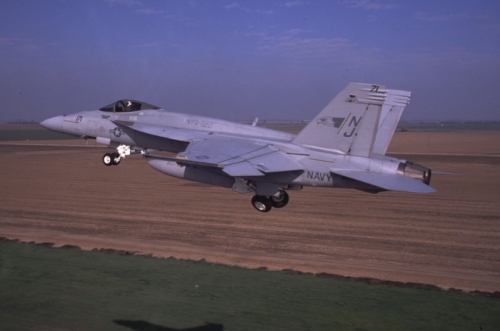 The Flying Eagles will receive 34 of the first 62 production Super Hornets (12 FA-18E and 22 two-seat FA-18F aircraft) over the next two years. The squadron met its 'Ready for Training' milestone is June 2000, when the first two
replacement aircrew began their training in the FA-18E. When they finish their training they will be assigned to VFA-115, which will be the first operational Super Hornet squadron currently scheduled for deployment in June 2002 aboard USS ABRAHAM LINCOLN (CVN 72).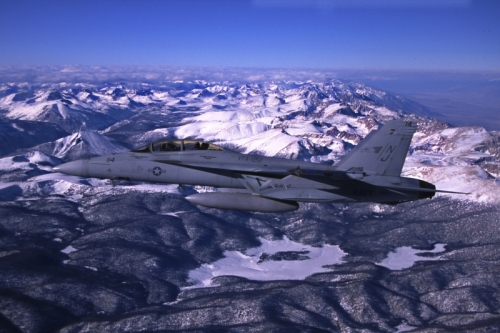 Currently consisting of approximately 270 personnel and 15 aircraft, the squadron is on a steep growth curve reflecting the Super Hornet's fleet introduction timeline. When fully formed in 2002, squadron manning will peak at over 500 personnel.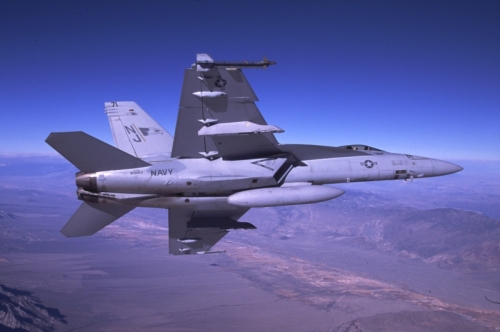 The Super Hornet is the navy's fighter for the first half of the 21st century. The jet is designed for growth and will handle numerous missions including the possible follow on to the EA-6B Prowler electronic warfare jet. The Super Hornet is outfitted with two general Electric F414-GE-400 engines with a combined thrust of over 44,000 pounds. The Super Hornets distinctive caret inlets allow for the increased airflow of the engines. The aircraft has eleven weapons stations for the wide variety or ordnance the jet can handle. The U.S. Navy plans to buy no less than 548 Super Hornets through the year 2010.
I would like to thank Lt. Brandan Harris, Lt. Brandon Hammond, CDR Mark Adamshick and all the Flying Eagles as well as and Brian O'Rourke AIRPAC Public Affairs for their support.