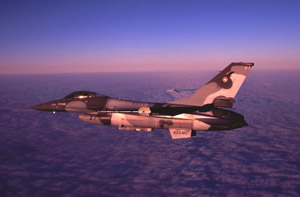 The US Navy has re-instated the F-16 Fighting Falcon within the ranks of its adversary tactics program. Assigned to the Navy Strike and Air Warfare Center, or NSAWC, the F-16N is training fleet aircrews in the art of air combat.
At the height of the TOPGUN program in the late 1970's and 80's, when the famous school was located at Naval Air Station Miramar, the F-16 was a truly dis-similar fighter. The ultra-maneuverable Fighting Falcon, or Viper as it is also known, is a 9G plus Ferrari that can outturn most fighters. It had given fleet Tomcat and Hornet drivers a very bad time.
Due to budget cuts and the wear and tear of air combat maneuvering on the airframes, the original batch of Vipers were retired. That left the aging F-5 and the F/A-18 Hornet to handle the role of dedicated Red Air adversary tactics training. The F-5 cannot replicate modern threats and the Hornet, while capable, is the same bird the fleet guys drive around the boat. With the resurgence of the Navy Viper, fleet Super Hornet aircrews now face a truly challenging adversary.