Biography of Rick Llinares, Aviation Photographer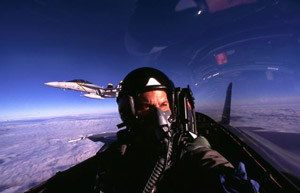 Like so many aviation enthusiasts, Rick Llinares had dreamed since boyhood of becoming a fighter pilot. Rick was raised and still lives on Long Island and caught the 'aviation bug' at an early age. His father was an executive with Grumman Aerospace and Rick grew up within the Grumman family. His first experience with military aircraft came during a Grumman company picnic and airshow when he was 9 years old. As he recalls "I can remember the airshow as though it was yesterday. The company had static displays of the World War II aircraft like the Avenger and Hellcat, but the stars of the day were the modern jets. The A-6 Intruder and EA-6B Prowler flew as well as a beautifully restored F-11 Tiger. But the performance by the F-14 that day was just incredible. From that moment all I wanted to do was become a Navy fighter pilot. I actually enrolled in a Navy Aviation Officers Candidate program while in college, and soon discovered that I was slightly colorblind." That was unfortunatly the end of his dreams of flying Navy jets from the deck of an aircraft carrier.
"My love of aviation never diminished, and I began dragging my wife and friends to some airshows and to NAS Oceana during vacations to Virginia Beach. I began taking some pictures which were terrible, but that's how I got started. One thing led to another and before long I found myself flying in tankers and writing articles on the units I photographed. I always wanted to write a book series on America's finest military aviation weapons schools, and so the 'Warfighters' series was developed."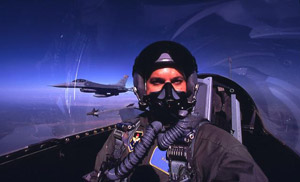 Rick co-publishes the nationally distributed 'Above & Beyond' wall and desk aviation calendar. He is the author of four books on American military aviation, Warfighters I and II, as well as Adversary's - American Aggressor Squadrons and STRIKE - Beyond TOPGUN. Rick's articles and photographs appear within most of the worlds leading aviation publications.
Rick is a lifelong resident of Long Island where he resides with his wife and two children. His interests extend beyond photographing Americas military aircraft. Rick is an avid boater and guitar player as well as a huge fan of lacrosse.